This is what I do instead of packing.
A House/Cuddy EP
(post-who's your daddy)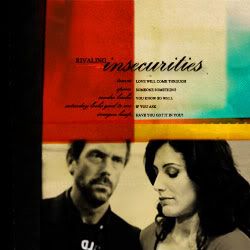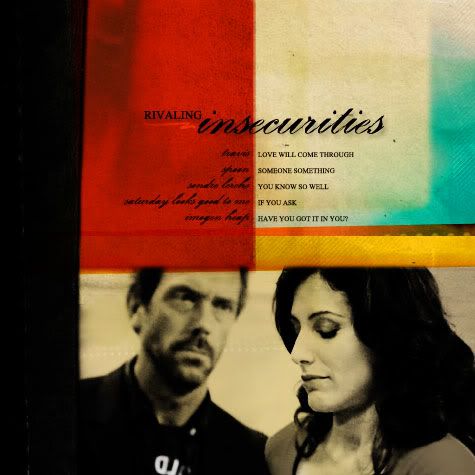 Cuddy: You didn't tell anyone else what I'm doing?

House: Not a soul.
Travis - Love Will Come Through
If I told you a secret
You won't tell a soul
Will you hold it and
Keep it alive
Cause it's burning a hole
And I can't get to sleep
And I can't live alone
In this life
Cuddy: I'm not looking for a date, I'm tired of looking.
Spoon - Someone Something
it tells me true I want a connection to
someone something
edge of a knife been missing it all my life
someone something
House: I don't care if you marry this guy, date this guy, go through his garbage, but you should know. Genes matter. Who you are matters. Find someone you trust.

Cuddy: Someone like you?

House: Someone you like.
Sondre Lerche - You Know So Well
I have told you this before
And my transparent mind
Won't cover see-through hearts
I'll be straight with you now
Now I'm not what you want
Just like the rest
And you feel like you're subject to a test
But if there's one thing I know it's this
When I lose my sleep it's you I miss
House: You came all the way up here just to tell me that?

Cuddy: No.
Saturday Looks Good To Me - If You Ask
If you ask, I won't keep nothing from you
What good would I be to you if I couldn't tell the truth?
But there's a chance
That even while we're still dancing
The answer to what you're asking will split your heart in two
House: We're hard-wired to pick for stupid reasons, you have a chance to pick for smart reasons.
Imogen Heap - Have You Got It In You?
Been one of those days,
Safety first don't push, what's the hurry?
One nerve remaining, waiting on one look, Have you got it?
Have you got it in you?
ZIP
@ sendspace
re-uploaded 21 October 2006
Current Music: the dears; pinned together, falling apart